About Windgap Foundation
"Windgap Foundation is a not for profit organisation, providing services to people with intellectual disabilities, including supported employment, supported accommodation, training, community access and community participation. Celebrating more than its 60th year of operation, Windgap has established an outstanding reputation as a quality disability service provider in the Eastern Suburbs of Sydney and prides itself on its values of 'caring, integrity, independence, innovation and empowerment'. It is Windgap's mission to improve the quality of life of people with intellectual disabilities by supporting them in reaching their full potential and raising community awareness as to their needs and aspirations."
Windgap News
New TTR Site Opens its Doors to Retirees and The Community
The venue is based out of a beautiful, recently refurbished period house known as 'Draper' in Daniel St, Botany. It is here that the potential retirees hope to develop two major group projects –the Community Garden and the Community Shed.
The bigger Transition to Retirement venue opened its door with attendance of Matt Thistlewaithe MP, potential retirees, families, support staff, senior managers, community members and volunteers. On the day, the TTR Diamond's Choir performed magnificently with BBQ being served at the yard that is shared with a shed for two bunny rabbits: Samantha and Buttons. A cosy, yet inviting and warm environment has been created with the support of corporate sponsors, local members, volunteers and potential retirees.
The group would like to thank everyone who was involved in this initiative and for their ongoing support.
For more information, please click here.

Victor Tombs (NSW Don't DIS my ABILITY Ambassador)
After 40 years of working for the Windgap Foundation Victor is now enjoying retirement through participating in the Transition to Retirement program. Victor enjoys singing and is a member of The Diamond's choir. He is also an accomplished painter and has received several awards for his work which have been shown at art exhibitions across the Eastern Suburbs. Victor spends his weekends with his partner Michelle and supporting his beloved South Sydney Rabbitohs. For more, click here.
Diamonds Choir Perform at Remembrance Day
Long time Windgap supporter and Mascot RSL Sub Branch President Paul Graham welcomed all at the Remembrance Day Ceremony. On the day, Windgap's Diamonds Choir performed for the Veterans , Dignitaries and attendees.
"Making Airwaves" : a community radio show to celebrate International Day of People with a Disability

The "Making Airwaves" project, now in its 3rd year, is a partnership between Windgap Foundation and Eastside Radio 89.7 FM in Paddington. "Making Airwaves" is an opportunity for people with an intellectual disability to learn radio presentation and production skills, creating their own radio show.
You can now link to the 'Voices of the Tiger' podcast
Footy Session with the Rabbitohs
Windgap's Rugby League enthusiasts had a football session with South Sydney Rabbitohs at Sir Joseph Banks Park. We would like to thank all who were involved, especially Souths Cares, Ben Lowe, Dave Tyrrell, Jason Clark and our Ambassador Matt King.
To view the video and full story of this footy session, please click here
__________________________________________________________________________________________
Upcoming Events
Come along to Windgap Warriors' final soccer game with Multicultural Respite Service (MRS). Thanks to Pagewood Botany Football Club, Special Olympics will be hosting the event at Jellico Park Pagewood on Saturday 22nd November at 10.30am. Windgap Warriors are looking forward for your support! Please RSVP to Aimee Purcell phone: 0424 185 565
East Sydney Day Programs Art Exhibition
East Sydney Day Programs' Tuesday art class are putting on an exhibition at Bowen Library, Maroubra. The Art Exhibition will showcase artworks by Windgap's clients on Wednesday the 12th until the 30 November. Watch this space for photos!
__________________________________________________________________________________________
Previous Events

Windgap Disco and Soccer Presentation Night
Windgap held a disco at Eastlakes Sports Centre. The night was enjoyed by many. Half of the centre was turned into a disco and favourite tunes were played by our in house DJ Brendon. During the night, Windgap Warriors Soccer Team received their trophies given by our former board member Paul Graham. We would like to thank all the volunteers and staff members who participated in training, soccer games and supported the Windgap Warriors Team and those helped and organised the disco night.

Windgap Warriors Soccer Team @ The Gala Day
The mighty Windgap Warriors won all four games at the Special Olympics Sydney Inner West EVERYONE CAN PLAY FOOTBALL GALA DAY on Saturday, hosted by Hurlstone Park Wanderers Football Club. Whilst both Marrickville Respite and the Hurlstone Park Wanderers provided some fierce competition on the day, our own Windgap Warriors were just too strong for the competition. The four qualifying matches were each won by the Warriors, and therefore the Victory Match required the Warriors to be divided into two teams to compete for the cup. The dedicated and strategic training by Warrior Coaches Roy Smythe and Tarek El Din have finally paid off, and will continue every Monday afternoon from 4.30 at Jellico Park. Two more Special Olympic Gala Days are scheduled for September and October so watch this space for details.
Windgap Foundation hosted its first NAIDOC celebration day on Wednesday 9 July. NAIDOC week provides Australians with the opportunity to share and acknowledge the history, culture and achievements of Aboriginal and Torres Strait Islander peoples.
The day was attended by over 120 people and brought together indigenous people and people with a disability in the spirit of inclusion, understanding and mutual respect. Uncle 'Chicka' Madden officially welcomed the community and the day was also attend by high-profile individuals including; Tony Mundine, Tyrone Peachey, Solomon Haumono and Roy Ah See. The day included cultural activities such as; boomerang painting and throwing, traditional dance, dreamtime stories and bush tucker… For more information, please click here.
"The Windgap Warriors" soccer team, sponsored by Pagewood Botany Football Club, hosted their local community at BKK Eastlakes Shopping Centre, to watch the FIFA World Cup, Australia vs. Chile match. With original Australian Socceroos Team jerseys donated by Soccer Australia, "The Windgap Warriors" cheered on and hosted an event that brought back Windgap's roots of community spirit. For more information, please click here.

Sunday 15 June was a historic day for the Eastlakes Community when Returned Servicemen and women, the Botany RSL Sub-branch and other RSL organisations, government officials, local dignitaries and members of the Eastlakes community gathered to remember our fallen heroes from past wars. Under a shield of opened umbrellas, the Diamonds Choir, led by its founder, Catherine Maitland performed the Methodist Hymn No 300 " Abide with Me", followed by the Australian National Anthem. For more information, please click here.
Windgap Gala Ball 2014
'A Night at the Races'
Getting involved in events such as our Gala Ball is a great way to support Windgap Foundation. All proceeds go towards our Transition to Retirement initiative to enable our supported employees to enjoy retirement with dignity!
Windgap's Annual Gala Ball was a great success this year with over 350 people attending. The night included many highlights: a Kath & Kim tribute by "Leave it to Diva" which included many hilarious moments, Special guest speakers Gerry Harvey and Katie Page had the crowd enthralled , Stump the Guru with Max Hitchins was a hit ,plus a phantom race call of the Windgap cup from Matt Hill which saw the winning table donate their $2000 winnings back to Windgap, the new Royal Randwick racecourse Venue & its food on the night were outstanding, then we finished the night with Live music from "The Enormous Horns" who kept us on our feet till the very end. For more information and photos from the night click here.
Windgap Yearbook
Windgap's Yearbook celebrates 60 years of Windgap and 30 years of Residential Services. Click below to view the yearbook. To purchase, call us on 02 8337 3646.
________________________________________________________
Video Gallery
Introduction to Windgap Services
View the short video of Windgap Services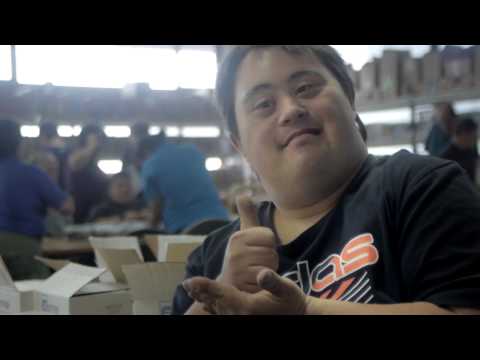 Ken's Windgap Journey
View the short video of Ken Clapp's Windgap journey.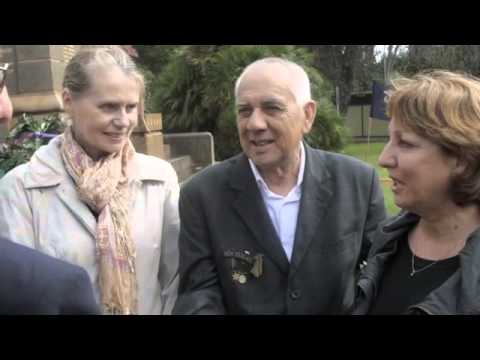 Volunteer Video
For any expression of interest to volunteer with Windgap, please email volunteer@windgap.org.au or call us on 02 8337 3646