19 Mar

Coronavirus Update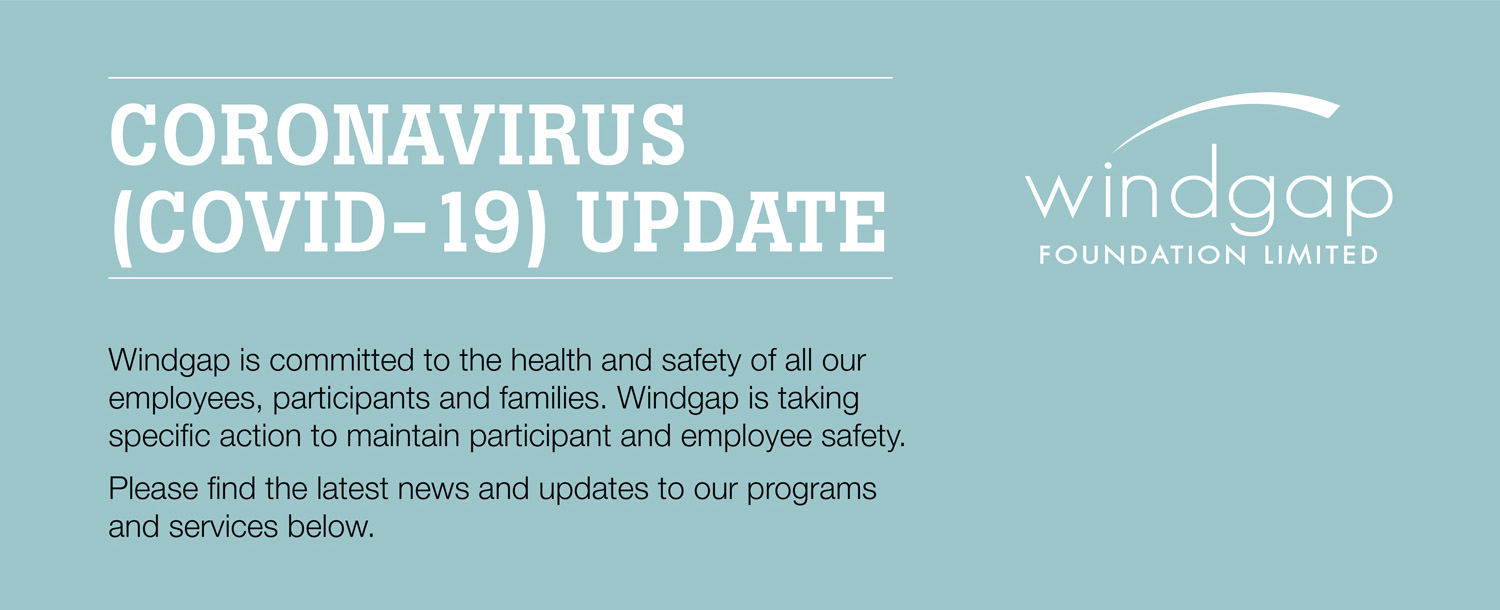 Windgap News And Updates
Windgap is committed to the health and safety of all our employees, participants and families.
We are closely following recommendations made by the NSW Department of Health and are adopting strategies to manage the pandemic in line with the Government's Coronavirus Emergency Response Plan.
As situations are rapidly evolving, any news or information received from these trusted sources will be updated and redistributed regularly.
As always, Windgap is committed to open communication and will continue to keep you informed with further updates as they come to hand.
We ask that everyone remain calm and support each other during this time. If you have any questions or concerns, please contact us.
Our reception and email is monitored closely during business hours:
Phone: (02) 8337 3600
Email: info@windgap.org.au
Windgap News – 15 December 2021
While a number of changes to COVID-19 restrictions come into effect today 15/12/21 for people in NSW, requirements at Windgap will not change.
Windgap will continue to follow the recommendations and guidance of NSW Health for disability service providers and remains vigilant on practices to ensure the health and safety of our participants and staff.
Current practices remain in place at Windgap:
Facemasks are mandatory for all staff and participants indoors and recommended where suitable outdoors. Exemption letters must be provided for those unable to wear masks.
Proof of full vaccination for all staff, participants and visitors (over 12yrs) entering our sites.
QR check-in remain at all sites for staff and visitors.
Temperature checks. Anyone with a temperature of over 37.5 degrees will not be permitted to enter our sites.
Social distancing with small group activities where possible for all programs.
Anyone who is unwell will be sent home and asked to seek a covid-19 test immediately.
Regular cleaning, sanitising and detailed cleaning of all sites and our transport vehicles is ongoing.
Additional requirements for Residences:
All residents are only permitted two visitors aged 12 years and over, plus 2 visitors under 12 years per resident per day.
All visitors aged 12 years and over must be fully vaccinated (unless in exceptional circumstances for visiting an residential disability care facility) Visitors must have proof of vaccination or a medical exemption.
Returning from overseas visitors and employees must receive a negative PCR test 7 days or later after arrival in NSW before entering a Windgap site.
All visits to Windgap residences need to be pre-booked.
Visits to Windgap Residential Homes take place where possible outdoors, if indoors, not within common spaces.
Staff members who live with a close or casual contact may be able to return to work immediately based upon a risk assessment.
Thank you for your ongoing commitment to ensure the health and safety of each other, our participants and families.
Up To Date Communications
Windgap is committed to keeping participants, employees and families informed. Communications will be sent regularly to all stakeholders and this web page will be regularly reviewed and updated.
Families – please ensure we have your current contact details so we can keep you updated. This includes your mobile number and email address. Please contact our reception on (02) 8337 3600 within business hours.