19 Mar

Coronavirus Update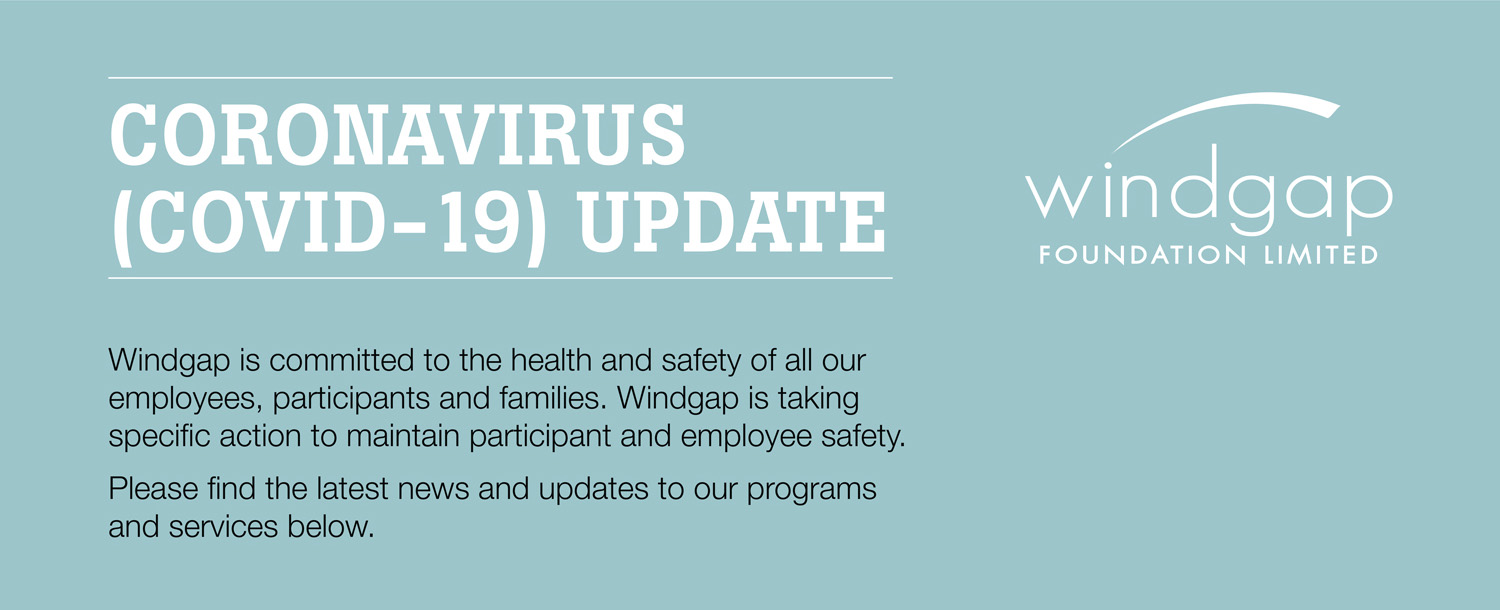 Windgap News And Updates
Windgap is committed to the health and safety of all our employees, participants and families.
We are closely following recommendations made by the NSW Department of Health and are adopting strategies to manage the pandemic in line with the Government's Coronavirus Emergency Response Plan.
As situations are rapidly evolving, any news or information received from these trusted sources will be updated and redistributed regularly.
As always, Windgap is committed to open communication and will continue to keep you informed with further updates as they come to hand.
We ask that everyone remain calm and support each other during this time. If you have any questions or concerns, please contact us.
Our reception and email is monitored closely during business hours:
Phone: (02) 8337 3600
Email: info@windgap.org.au
Update on Windgap's programs and services
Updated Restrictions at Windgap –  28 July 2021
The current protocols will remain in place until further notice and may change at any time in line with recommendations by NSW Health.
Windgap will temporarily suspend Day Program and group activities for two weeks, from Wednesday 28 July until Tuesday 10 August in line with NSW Health guidelines.
Supervisors from our Day Programs will be contacting relevant families individually to discuss any immediate needs.
The NSW Premier has confirmed that Sydney's lockdown has been extended until Saturday 28 August. As we live and work in Sydney, these lockdown restrictions apply to us.
Windgap staff who are residents of the Fairfield, Canterbury-Bankstown, Blacktown, Liverpool, Cumberland, Parramatta, Georges River and Campbelltown LGAs will be subject to mandatory testing every 3 days according to the NSW Health Guidelines.
There are also NEW hotspot locations updated daily, please click here to view the latest locations.
Please keep up to date with current COVID-19 Hotspot locations. Please notify us ASAP if you have visited any of these venues or you have been in contact with someone who has – it's important you tell us so we can put in place appropriate steps to reduce exposure to our participants and Windgap community.
Please continue to monitor yours and your families' health – if you or anyone in your family is unwell, please have a COVID-19 test ASAP.
Changes to Facemask Rules – You must wear a mask in indoor public places – if your loved one requires an exemption from wearing a mask in public, please contact us to organise the paperwork (2 options of proof of exemption required are outlined below).
a medical certificate or letter signed by a registered health practitioner (such as a doctor) or a registered NDIS provider or
a statutory declaration.
Please read below upgraded restrictions for Windgap in place until 28 August, 2021.
Windgap Residential Homes:
• Windgap Residential Homes will cease attending Day Programs during this time and will receive support and activities within their residential home.
• All family visits will remain cancelled until further notice, depending on the individual circumstances of each resident.
• If an essential visit is required, we ask that there be no more than 2 guests for the entire house and this will be held in an outdoor area only. QR code check-in, temp check, sanitizing to continue.
• A 'Visitation/COVID-19 Risk Assessment form' will need to completed for any participants taken out of the Group Home, 24 hours prior to leaving – as is the long standing practice. A COVID-19 test may also be required prior to returning, to protect the health of other residents and staff.
• Residents from facilities in Greater Sydney should avoid leaving the facility except for permitted reasons (e.g. medical appointments, organised disability day programs, transfer to planned or emergency respite) and must remain within Greater Sydney.
• External programs and support services outside of Windgap cancelled – supports provided within the home.
• All community outings and social planned programs are on-hold.
• No residents or staff are to attend shopping centres and supermarkets – delivery only where possible.
• Outdoor exercise for fresh air can take place in areas deemed safe e.g. large outdoor parks within close proximity to the home (where no contact with the community is possible). This should be in smaller groups and not the whole house.
Windgap Day Programs:
• Day Programs will be temporarily suspended until 10 August (returning 11 August). There are exemptions for participants who need to continue to access services to prevent harm to themselves or others.
• Supports can be provided by Windgap in a one-to one scenario to support those who require essential routines, additional mental health support, or participants who are unable to receive 24-hour care in the family home.
• All community and social activities outside Windgap sites are on-hold.
• No participants are to be taken out to shopping centres and supermarkets – delivery only where possible.
• Some outdoor exercise for fresh air can take place in areas deemed safe.
Windgap Supported Employees & SLES:
• Supported Employment will remain open under NSW Health guidelines.
• Growability will continue to work – but will be restricted to working on site.
• We understand that some families may decide to keep their loved one at home during this time.
• School Leavers Employment Services Programs will remain open – with alternative centre based activities.
• The  Tukka Box Café remains closed.
• We recommend participants avoid public transport where possible and to please contact community transport if you require assistance.
Additional NSW Health Guidelines to be followed:
The current lock down orders list five reasons for people to leave home – these rules continue to be in place until until 28 August, 2021.
The necessary reasons include:
• If you can't work from home and you have to work outside of home – Note: disability workers are an essential service.
• If you can't get educated at home and you have to get educated outside of home.
• If you exercise outside, although we don't want any more groups than 10.
• If you need to provide care or compassion to a relative.
• If you need to buy essential goods or services.
In addition:
• Masks remain compulsory in all settings at Windgap, including outdoor areas.
• Singing and dancing is not permitted.
• Staff or participants with a fever of 37.5°C or above, or respiratory symptoms – even mild, will be excluded from the program/site and will be advised to isolate at home and seek COVID-19 testing. Families/Carers will be notified immediately.
• The four-square-metre rule is back with social distancing rules applied across all Windgap sites where possible.
• All Windgap sites have additional supplies of PPE.
Up To Date Communications
Windgap is committed to keeping participants, employees and families informed. Communications will be sent regularly to all stakeholders and this web page will be regularly reviewed and updated.
Families – please ensure we have your current contact details so we can keep you updated. This includes your mobile number and email address. Please contact our reception on (02) 8337 3600 within business hours.
Recognising symptoms of Coronavirus COVID-19
Symptoms can range from mild illness to pneumonia. People with Coronavirus may experience:
A fever above 38 degrees
Flu-like symptoms such as coughing, sore throat and fatigue
Shortness of breath
Some people recover quickly and easily, and others may get very sick, very quickly.
If yourself, a family member or a Windgap participant is unwell and think there may be symptoms of the Coronavirus, please contact Windgap and seek medical attention immediately.
Call ahead of time to book your doctor's appointment.
Tell the doctor about the symptoms, travel history and any recent close contact with someone who may have or has Coronavirus.
If you must leave home to see the doctor, ensure a surgical mask is worn by yourself or the patient to protect others.
If you have serious symptoms such as difficulty breathing, call 000 for urgent medical help
Help prevent the spread of the Coronavirus at home and work
There are many ways that you can help stop the spread of this virus:
Practice regular handwashing
Sneeze or cough into tissues, then throw in the bin
Sanitize or disinfect regular areas that are touched regularly around the home or workplace, particularly door handles
Limit close contact with others and avoid activity with others for long periods of time
Please reduce physical contact with others where possible
Windgap is requesting telephone calls or emails instead of meetings.
Please change your greeting style from a handshake to waving
Where can I find more information?