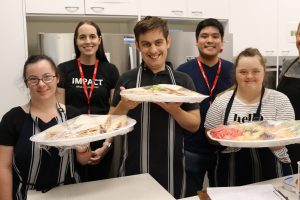 Volunteering is a great way to give back to the community, meet new people and gain new experiences. Most importantly, you are helping to enrich the lives adults with a disability to live their lives to the fullest.
At Windgap, we have a range of volunteer opportunities. Depending on your skills or interests, some of these volunteering opportunities may include assisting with:
leisure activities, hobbies, sports or learning and life skill programs;
kitchen support within our Day Programs, Supported Accommodation or Tukka Box Café;
the workshop alongside our Supported Employment Employees or our Growability gardening team;
spruce up our properties or help with projects – registered tradesman are welcome and can also help; or
lending a hand at a fundraiser or special event!
Interested in Volunteering?
We welcome people of all ages from 18 years who are looking to give back and make a difference to the lives of people with a disability.
To be eligible, you will need to meet the following criteria:
Find out more by contacting us below using the enquiry form.
Corporate Volunteering – also available!
Windgap also has Corporate Volunteering options available for your team to re-engage with the community, build camaraderie and improve corporate culture.
Find out more by clicking here or contacting us below.