23 Apr

Everything you need to know about Supported Independent Living (SIL)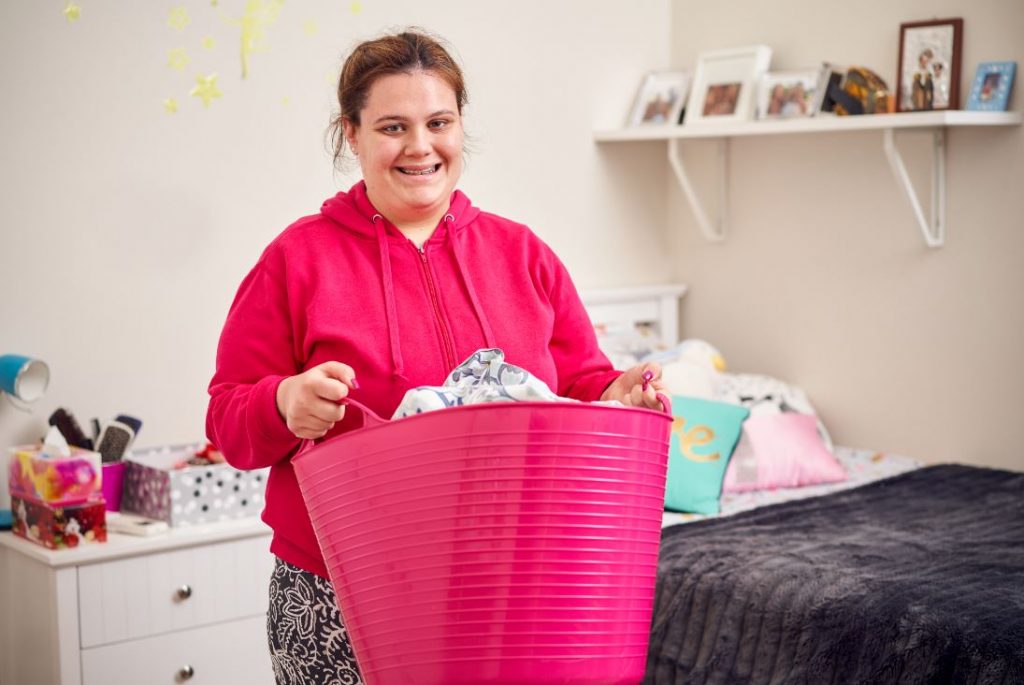 Are you or one of your family members interested in living independently? It can be a little daunting, however at Windgap, we're here to help every step of the way.
Often the best way to work out your needs is to talk to someone directly. Our Support Coordinators are on hand to assist you with any questions you have, or you can read below for more information.
What is Supported Independent Living (SIL)?
Supported Independent Living (SIL) is the NDIS funding given to the organisation a participant choses to provide 24/7 support in an Accommodation setting. At Windgap our SIL homes are tailored to your individual needs and goals.
At Windgap we provide support to the participant to complete the tasks of daily living and support to the person to participate in the running of their home and community activities.
Our dedicated and friendly staff are on hand to support you with everyday tasks, including:
Cooking
Cleaning and laundry
Personal care
Taking medication
Attending appointments
Learning a new skill or hobby
Public transport
What does SIL not cover?
Rent, Board and Lodging
Transport
Household budgeting re: personal activities
Expenses related to holidays
Personal care supports if hospitalised
Items covered in other sections of the NDIS price guide
What's the difference between Supported Independent Living (SIL) and Specialist Disability Accommodation (SDA)?
Both of these terms sound very similar, however there are key differences.
Supported Independent Living (SIL) is the funding for support staff at your home. Support staff help the residents organise household tasks like preparing food, cleaning etc.
Whereas Specialist Disability Accommodation (SDA) is the funding given to the organisation that own the house. They focus on accessibility of the property to assist you to safely live there and on-going maintenance of it.
How do I get Supported Independent Living (SIL) funding?
This is a very commonly asked question! The NDIS is an evidence based system and relies on advice from Allied Health Professionals to determine whether someone is eligible for SIL and/or SDA Funding.
When you go in to your planning meeting, you will need to explain to your planner why SIL funding is reasonable and necessary to your circumstances. Our Support Coordination team are here to help if you need advice or have any questions.
Where can I find Supported Living Vacancies?
Windgap has various upcoming vacancies that could suit you. We try our best to match you with people who have similar interests and lifestyles!
Who will I be living with?
It is important to us that you live in a comfortable and harmonious environment.
Our team will try their best to match you in a house with people who have similar interests and lifestyle choices.
Who can help me get Supported Independent Living?
If you have an NDIS plan that includes Coordination of Supports, we are here to help you. At Windgap we have Support Coordinators that are ready to talk to you about your goals. Our priority is getting to know you, identifying your goals and what you want out of your plan. Our relationship with you is extremely important to us, and we put you first!
We understand that the NDIS can be a little daunting and confusing to most, and that is okay! Our support coordinator's will help you find quality support services and will ensure they are reliable and suitable for your needs. If there is something within your plan that you're unhappy with, we can make adjustments till it's right! We will ensure that your journey with the NDIS is as smooth as possible.
Overall, our support coordinators are experts in the field, and we are confident that our team will put your dreams and wishes into action!