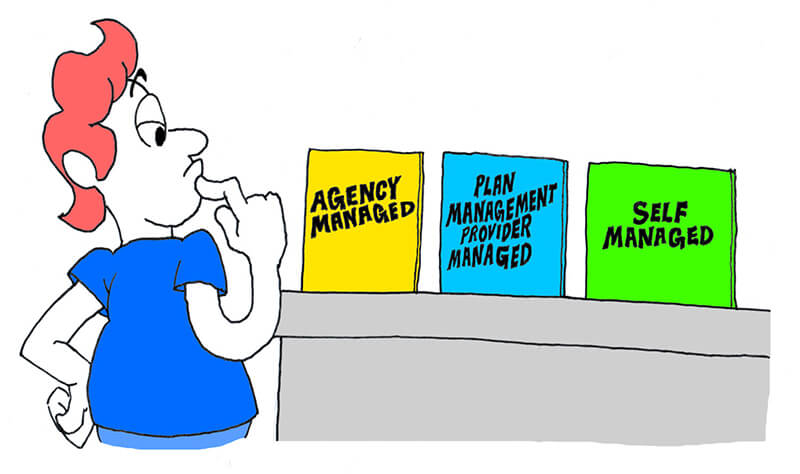 15 Jun

Managing My NDIS Funding

Deciding how to manage you NDIA funding package means choosing how you would like the supports in you NDIA plan paid to a service provider.   There are (3) main ways of managing your NDIA funding.  You will decide which option is the best for you when you meet with a Local Area Coordinator (LAC) or NDIA planner.

Option 1 is known as Agency managed.  This is where the NDIA manages your money and pays your support providers directly.  With this option you need to choose service providers that are registered with the NDIA. Agency managed funding is the most streamline simple way for participant's and the nominee to manage the NDIA funding. Once the service agreement is in place there is very little that needs to be done.
Option 2 is Plan management provider managed.  This is where the NDIA pays a plan manager to help you manage your budget.  Your plan manager asks your service providers for invoices and pays them on your behalf. Plan management provider managed is a positive option for the participant and the nominee because Windgap assist to budget the funding and pay the bills. Again if a service agreement is in place there is hardly any work required by the participant or the nominee.
Option 3 is Self-managed.  You are the one looking after your funding; the NDIA pays you or you nominee directly into your bank account.  It is then up to you to ask service providers for invoices and to pay them.  If you self-manage you can also hire you own qualified staff. Self-managed means that the participant or the nominee has to do all the work.  They need to get an ABN, insurance, WorkCover etc. basically a sole-trader. Managing and hiring staff can also be a major demand on a participant including completing criminal history checks.
But, no matter which option you choose, you decide which service providers are right for you, and when and how you want your supports delivered.