13 Nov

Windgap Connect – Spring Edition 2023

Message from CEO Andrew Anderson
Hello Families & Carers,
Welcome to our spring quarterly newsletter, a showcase of the remarkable achievements and milestones we have collectively reached.
I would like to take a moment to reflect on what was a very successful Wellbeing Month at Windgap held in October. Centred on the four pillars of physical health, mental health, food health, and sleep health, we introduced numerous activities, including: a presentation by Sam Gash, a Move-well challenge, financial presentations, coffee catch-ups, hear to talk, fruit boxes, AFL clinic, yoga, desk cycles, information sent twice weekly to support all aspects of your wellbeing, T-shirts, gratitude journals, and loads more.
In addition to our own activities, I am also delighted to have been appointed as Vice-Chair of the National Disability Service New South Wales Divisional Committee. This will enable us to continue to actively participate in decisions that have wide-ranging impact, not just for Windgap, but for the entire disability service sector in New South Wales.
As we march towards the close of 2023, let us carry forward the spirit of unity, empowerment, and progress that defines Windgap. Together, we can create a brighter and more inclusive future for all.
Wishing you all a safe and festive holiday season.
Kindest regards,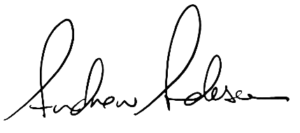 Andrew Anderson
CEO
Windgap
October saw Windgap take part in Wellbeing Month, a time in which we focus on the four pillars of wellbeing, Eating Well, Sleeping Well, Moving Well and Unwinding your mind. To support this we ran various initiatives aimed at improving wellbeing for Participants and staff.
Special thanks to the Orica Botany Community Investment Program and Clovelly Community Bank for their support. Your partnership empowered us to create a month that will be remembered for its positive impact on our community. Let's keep the wellness spirit alive, not just for a month but every day.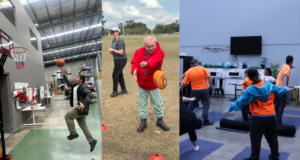 Windgap proudly extended a warm welcome to our local community by hosting an Open Day. This gathering was not only an occasion to showcase the diversity of our programs but also an opportunity for our valued visitors to immerse themselves in the very values that form the foundation of our work.
During this event, attendees had the chance to explore the array of services and support we provide for our Participants. Whether it was our innovative day programs, inclusive recreational activities, or vocational initiatives, the Open Day was a window into the world of Windgap. Through guided tours and staffed stalls, guests gained a deeper understanding of the positive impact we create in the lives of those we serve.
At Windgap, our mission is rooted in compassion, inclusion, and empowerment, and the Open Day was a moment to share this ethos with our community.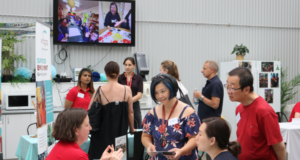 Sydney Marathon Family Fun Run
A huge group of Windgap Participants successfully finished the Sydney Marathon Family Fun Run. They had the honour of enjoying a scenic walk across the famous Harbour Bridge, ending at Sydney Conservatorium of Music. It was truly a wonderful opportunity for our community to come together and share in this unforgettable experience.
We want to express our appreciation to our Windgap weekend team for their support. Your commitment and passion played a crucial role in ensuring the success of this event.
To enhance the experience for our Day Programs for Participants, Windgap runs a Bright Ideas competition. This initiative invites our staff to conceive innovative and engaging program ideas tailored to the interests and goals of our participants.
We are delighted to share that the winning concept, proposed by staff member Ken Sorge, entailed taking a group of Participants on an exhilarating day trip to Penrith for a simulated skydiving adventure. The day was nothing short of spectacular, allowing our Participants to spread their wings and experience the thrill of skydiving.
We look forward to more innovative and inspiring Bright Ideas to come. Be sure to check out our Instagram for some awesome footage of the event.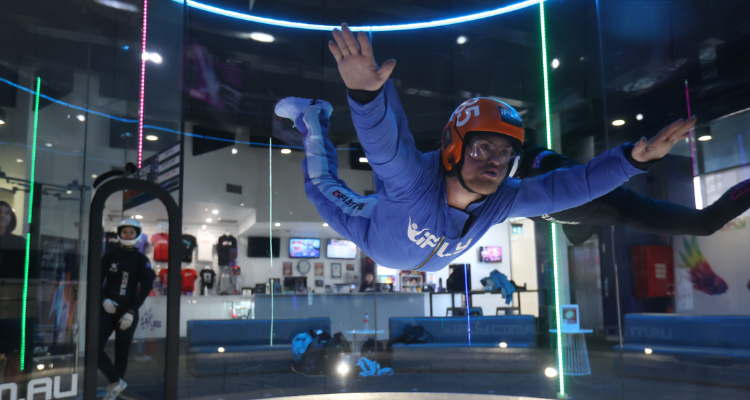 Andrew Anderson elected NDS Vice Chair
We are thrilled to announce that Windgap CEO, Andrew Anderson, has been elected as the Vice Chairperson of the NDS New South Wales Divisional Committee!
The NDS (National Disability Services) committees are pivotal platforms for members to come together and discuss pressing issues affecting the disability sector. These committees serve as a vital conduit for advocating change, providing constructive input, and responding to the concerns and interests of members.
Having Andrew in this role means that Windgap will have a direct voice in shaping policies and initiatives. His seat at the table will enable us to actively participate in decisions that have wide-ranging impact, not just for Windgap, but for the entire disability services community in New South Wales.
As someone who deeply understands the challenges and opportunities within the disability sector, Andrew will represent not just Windgap, but also bring to light the needs of our Participants, staff, and stakeholders. This position strengthens our commitment to creating more equitable, effective, and compassionate services for all.
We're thrilled to announce Windgap has be awarded the 2023 Xref Engage Best Workplace (formerly the Voice Project) for the third consecutive year in a row. This award recognises our dedication to creating an outstanding workplace that prioritises employee engagement and satisfaction.
Our commitment to fostering a positive environment for our team's wellbeing and professional growth, along with effective management practices, has earned us this award. We're deeply grateful to our entire team for their dedication in making our workplace exceptional. This award reflects our collective efforts and values, and we're excited to keep striving for excellence.
Florence Avenue Day Program is back, better than ever, after a rejuvenation project. We extend heartfelt thanks to our Participants, families, carers, and dedicated staff for their unwavering support during the refurbishment. The space is now ready to empower individuals with disabilities, and we're grateful to Liesl Tesch MP, Parliamentary Secretary for Disability Inclusion, for inaugurating this special occasion. Together, we've achieved a significant milestone in enhancing our commitment to providing an environment specifically designed for for growth and inclusion.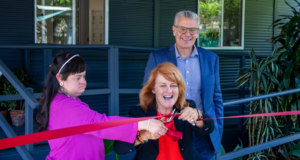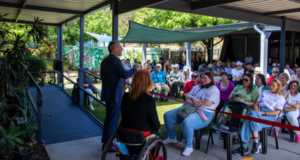 Windgap recently attended our local Ready Set Connect event. This event served as a platform for service providers to come together and engage with Individuals with disabilities, Families & Carers, Teachers, and Local Area Coordinators. We believe in the power of collaboration and networking to enhance the support and services we offer, and are pleased to have been part of an event that facilitates such important interactions.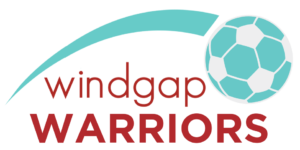 The Windgap Warriors ended the season with a bang at the George Lundy Charity Cup. Pagewood Botany Football Club have been the Warriors number one supporters over the years forming an invaluable partnership with Windgap, providing opportunities for individuals with disabilities to excel in sports. In an impressive match, the Warriors triumphed over the Lundy Team with a remarkable 7-4 victory, capping off the season in style.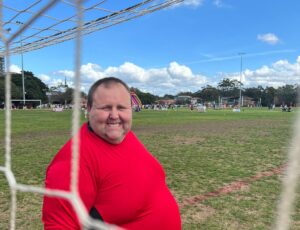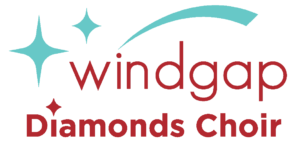 Spring brought heart warming moments, with our Diamonds Choir standout performances. Wearing vests with their fresh new logo at the Windgap Open Day and the Dementia Day Program at War Memorial Hospital, touching everyone's hearts with their enthusiastic voices.
The Dementia Day Program warmly received our choir, even making individual thank you cards for each singer. This led to an invitation for regular visits, creating a lasting bond. We're also in talks with Southern Cross Aged Care to expand our musical outreach. These initiatives help us make a meaningful impact, and we look forward to more musical moments in the future.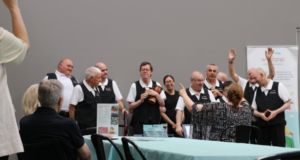 Florence Avenue Day Program
Florence Avenue relocated temporarily to Chifley while their home base underwent refurbishment. During this time, program activities were still in full swing, including fun day trips like Putt Putt golf, 'KoKo Arcade' gaming, dance classes, and Karaoke on X-Factor Fridays. Monthly 'Bella Art' sessions introduced new artistic techniques, while outings to 'Club Matto,' the Sailability program, fishing trips, drumming sessions, rickshaw rides with BikEast, musical chair yoga, and more kept participants engaged and entertained.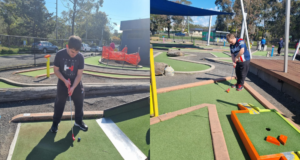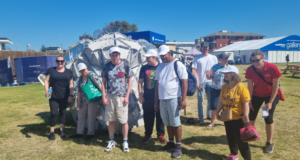 Botany Grove participants have been enjoying a wide variety of activities. Swimming has been a highlight with new participants taking a liking to the pool. Clr Christina Curry joined our weekly drumming group at Windgap. Participants had a great time at the NRL Fan Festival in Circular Quay, where they played games, listened to live music, and danced with joy. They were especially excited to get their photo taken with the Premiership Cup. Other activities included Bella Art, Bikeast, pub lunches, Sailability, exploring the city's museums and art galleries, riding the Light Rail, and taking walks along beach promenades and park boardwalks to get some exercise.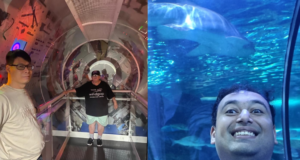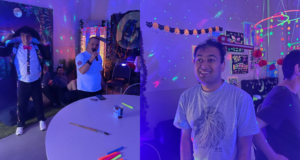 Draper have been out and about engaging in fun activities like going to the Australian Museum to explore the interactive exhibitions. Bowling at Strike has proven to be a great way to unwind and reduce stress, providing a fun and social outlet for relaxation. Draper have also been cooking up a storm making delicious apple pies from scratch.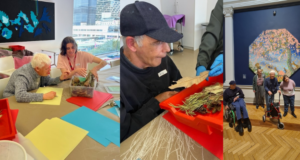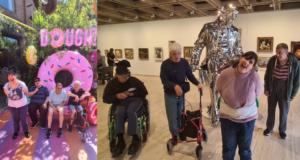 Australian Disability Enterprises (ADE)
Our ADE warehouse team has been diligently working on the huge Manshake project and gearing up for the upcoming Clean Up Australia job. The Participants said they have really enjoyed all the skills being learned and utilised on the Manshake project.
In addition to their regular responsibilities, the ADE crew has taken pleasure in participating in Windgaps Wellbeing Month activities. They also had the privilege of hosting some special visitors from long time supporter and Windgap Ambassador Matt King to Deloitte volunteers joining the ADE for their 2023 Impact Day.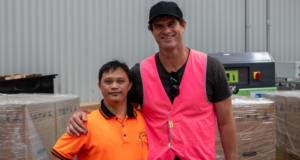 School Leaver Employment Supports (SLES)
The Tukkabox team has been quite busy lately. In addition to making delicious lunches for Participants and Windgap staff, they've been tackling a variety of catering orders. This includes providing catering for board meetings, the Deloitte Impact day, and handling their biggest catering order yet, for the reopening of the Florence Ave Windgap site. They have also taken on an external order for cookies, this time for a Baby Shower. In addition to their culinary skills, the team has been working on their money management, teamwork, and even delving into the world of podcasting.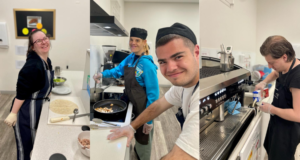 Life After Work (LAW) Program
Spring brought some wonderful moments to LAW, with the choir's fantastic performances at both the Windgap Open Day and the Dementia Day Program at War Memorial Hospital. Meanwhile, one of our Participants had a goal to play more basketball, so we acquired a basketball and organised regular outings to the court at Booralee Park. This initiative sparked the interest of many others in the group, who now also have blast shooting hoops! And, of course, the artistic talent at LAW continues to shine brightly. An exquisite mural is in the works on-site, complemented by some beautiful wooden circle art pieces generously donated by Bunnings. It's a season of creativity and accomplishment at LAW!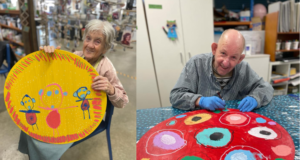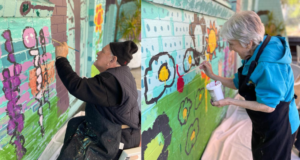 Our Partners and Supporters

Botany Community Investment Program
Thanks to the generous support of the Orica Botany Community Investment Program, Windgap Participants had the opportunity to celebrate Wellbeing Month with a variety of exciting activities. One standout event was a memorable day dedicated to enhancing their AFL skills, made possible through a partnership with AFLNSWACT and their Kickability program. Our Participants had the privilege of engaging in drills and activities guided by experts, creating lasting memories of a fulfilling and enjoyable experience.
The grant also allowed us to enhance our Wellbeing Month program by providing sports equipment, hosting health-related guest speakers, offering physical and mindful activities, and promoting healthy eating programs.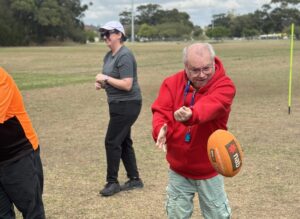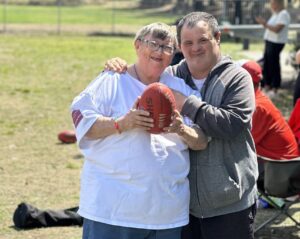 New Wellbeing Month T-Shirts
We would like to extend our sincere gratitude to our wonderful supporters at Clovelly Community Bank. Their generous contribution has had a significant impact on our community, particularly during Windgap Wellbeing Month. Thanks to their kind support, our Participants have been adorned with brand-new t-shirts that symbolize our collective dedication to well-being and unity.
The presence of these fresh t-shirts is a testament to the strong bonds within the Windgap community, and we are truly excited to witness them being worn with pride by our Participants. The support from Clovelly Community Bank continues to be a source of inspiration, reminding us of the power of collaboration and shared values. We look forward to seeing these shirts become a symbol of our commitment to well-being and community spirit throughout Windgap. Thank you, Clovelly Community Bank, for being an integral part of our journey.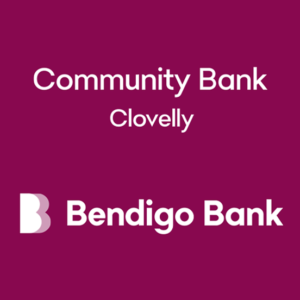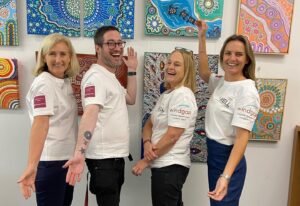 Impact Day
We extend our heartfelt thanks to Deloitte for their contribution during their Impact Day at Windgap. The Deloitte team enthusiastically joined our Supported Employees, immersing themselves in our warehouse operations. Their commitment and enthusiasm made this day a resounding success, leaving a positive and lasting impression on both our staff and Participants. Their dedication exemplifies the spirit of collaboration and support that defines the Windgap community.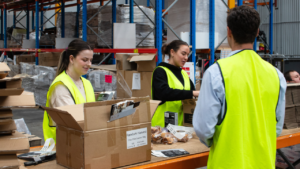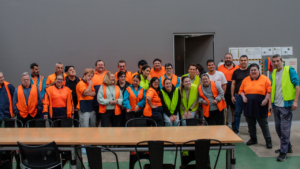 Raffle Winner Car Collection
The 2023 Gala Ball Car Raffle winner has now collected their prize, thanks to Toyota Finance Australia (TFA). Congratulations to Kathleen, who was excited to pick up the keys and drive away in her 2023 Toyota Yaris Ascent Sport Auto Hatch. Special thanks to Tim Rich, Head of Marketing and Digital Growth for presenting the prize.
For over 30 years, TFA has led Australia's largest auto financier, offering premier finance, insurance, and fleet management to individuals and businesses. Their customer-centric approach showcases dedication to excellence, evident through their expertise and global Toyota Financial Services leadership. With TFA's generous support, we celebrate a shared vision for a brighter future.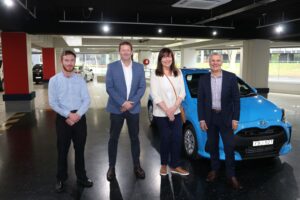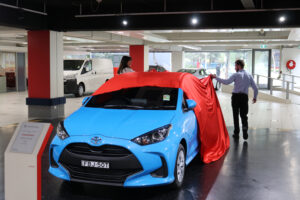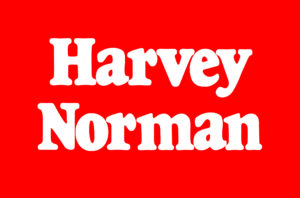 Supported Independent Living Upgrades
We are thrilled that our new supported independent living home, is now fully furnished and ready to provide a welcoming and comfortable environment for our Participants. This milestone would not have been possible without the invaluable support of our long-term partners, Harvey Norman.
We extend our heartfelt gratitude to Harvey Norman for their ongoing commitment to our mission. Their contributions have played a vital role in enhancing the comfort and wellbeing of our Participants, ensuring that they have a safe and nurturing space to call home.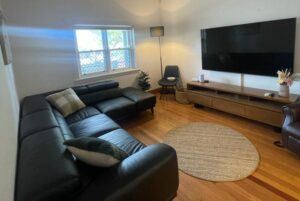 For regular updates on everything happening at Windgap make sure to follow us on Social Media!