23 Aug

Windgap Sponsors and Supporters Update – Winter Edition

Message from CEO Andrew Anderson
Dear Valued Supporters,
We are delighted to announce the success of Windgap's inaugural sports carnival held in June. This event was a celebration of camaraderie, athletic prowess, and inclusivity, reflecting the heart of Windgap's mission.
In the realm of achievements, we are proud to share Windgap has been awarded The Voice Project's Best Workplace Award for two consecutive years, alongside the esteemed Change Champion Award. These awards are a testament to our dedication in nurturing an environment where each individual can truly flourish.
As part of our 70th Anniversary celebrations, we introduced a commemorative hoodie for our Participants. These hoodies are more than clothing; they symbolise our decades-long evolution and the tight-knit community that is Windgap's hallmark. Our heartfelt gratitude extends to all who have been part of this incredible journey.
Your commitment has greatly contributed to the success of our recent events, notably the Moonlight Masquerade Gala Ball. This elegant evening, attended by our allies and advocates, echoed our collective dedication to creating a lasting positive influence. It is important to acknowledge that this achievement would not have been attainable without the support of our sponsors and advocates.
A big thank you extends to the exceptional volunteers from St Spyridon College. Their remarkable commitment was pivotal in the success of our recent activities, including the Gala Ball.
As we continue into the remainder of 2023 and beyond, let us carry forward the spirit of unity, empowerment, and progress that defines Windgap. Together, we can create a brighter and more inclusive future for all.
Kindest regards,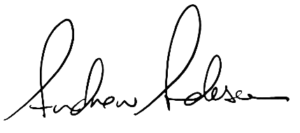 Andrew Anderson
Chief Executive Officer
Windgap Foundation Limited
Moonlight Masquerade Gala Ball
We would like to express our heartfelt gratitude to everyone who made Windgap's 2023 Moonlight Masquerade Gala Ball an absolutely unforgettable evening! The event was a resounding success, and it wouldn't have been possible without your presence and support.
The venue shimmered with elegance as our amazing guests graced the occasion, adorned in stunning masks and elegant attire. Each and every one of you added an enchanting touch to the night, creating an atmosphere of joy and celebration.
We also extend our deepest appreciation to our corporate sponsors. Your unwavering support and belief in our cause have played a crucial role in making this event such a tremendous success.
With your generous contributions, we have been able to raise vital funds that will directly impact the lives of our participants. This will help them to thrive and reach their fullest potential.
Your commitment to Windgap and the communities we serve is truly commendable. Together, we are making a tangible difference in the lives of individuals with disabilities, and we couldn't be more grateful for your support.
Looking ahead, we are thrilled to announce that plans are already underway for the Windgap Gala Ball 2024. We eagerly anticipate another night of splendor, camaraderie, and purpose, as we continue to create positive change together.
Once again, thank you for your unwavering support and for making the 2023 Moonlight Masquerade Gala Ball an extraordinary event. We couldn't have done it without you!
For all our event photos, take a look at our Facebook album.



Thank you to all our Gala Ball Sponsors
We want to express our gratitude to our event sponsors for their generous support and dedication in making our Gala Ball a success. Their invaluable contributions have enabled us to deliver an outstanding experience while fostering growth, innovation, and collaboration within our Windgap community.

For over 30 years, TFA has led Australia's largest auto financier, offering premier finance, insurance, and fleet management to individuals and businesses. Their customer-centric approach showcases dedication to excellence, evident through their expertise and global Toyota Financial Services leadership. With TFA's generous support, we celebrate a shared vision for a brighter future.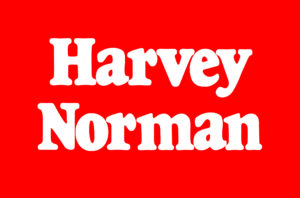 Harvey Norman stands tall as an Australian retail icon, with franchises nationwide and over 220 stores across 8 countries. Their remarkable presence is matched by their unwavering support, making this event a reality. Their commitment to excellence and customer satisfaction shines through as a leading retailer.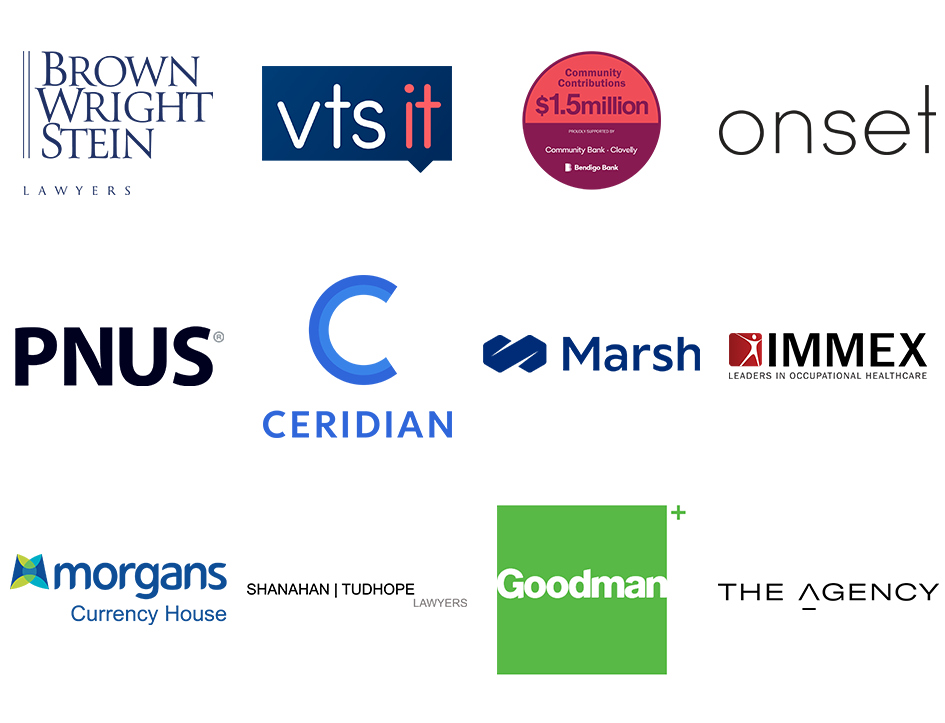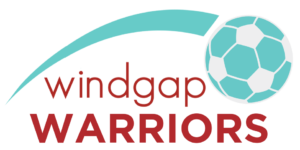 The winter has seen the Windgap Warriors finish up its season against the Randwick City FC's Purple Hearts team. A big thank you to the Purple Hearts' coach Ben and the entire Purple Hearts team. We are greatly anticipating our future matches next season.
The Windgap Warriors took on Randwick City FC's Purple Hearts team twice, once in June and another in July in a match marked by World Cup excitement. The players delivered impressive performances, showcasing their skills and teamwork across both games. These games were a hit, with both teams giving their all.
The Warriors now turn their focus to the Lundy Cup on August 26th.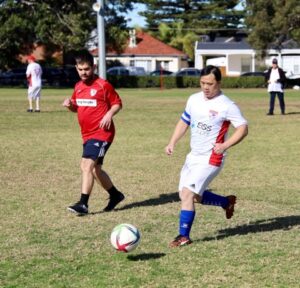 Over the years, Windgap has been partnering with Voice Project to conduct regular employee engagement surveys. Today, we're proud to announce that our efforts and your dedication have been recognised and celebrated through prestigious awards!
In 2021, we were overjoyed to receive our first Best Workplace Award from Voice Project. This accolade honours organisations with outstanding management practices and highly engaged workforces, making us proud of the positive environment we've nurtured together.
But the success story doesn't end there! In the following year, we were awarded yet again with another Best Workplace Award, reaffirming Windgap as an exceptional place to work.
These awards are not only a reflection of our dedication but also speak volumes about the continuous improvements we strive for. In 2022, we maintained our commitment to employee engagement and satisfaction, and it paid off with an additional recognition – a Change Champion Award from Voice Project. This award commends organisations like ours, which demonstrate exceptional progress in work practices and employee engagement.
We want to highlight the amazing St Spyridon College volunteers who have been an invaluable support to Windgap across multiple events.
Their efforts during the Gala Ball, where they collected donations and sold raffle tickets, greatly contributed to the event's success. We received incredibly positive feedback from guests and Participants alike.
Moreover, their assistance at the Windgap Sports Carnival was vital and greatly appreciated. Their dedication made the event memorable for everyone involved.
We extend our deepest thanks to the Year 9 and 12 volunteers for their selflessness and commitment to making a difference in the lives of others.



We are thrilled to be part of the thrilling BIKEast program over the past few months. This remarkable initiative, led by dedicated volunteers, offers our Participants the chance to be passengers on a trio bike, delighting in leisurely rides around the picturesque Centennial Park. The serene experience of gliding through this beautiful park brings joy and relaxation to our individuals, while others in the group enjoy a pleasant coffee break at the park café, cheering on their friends during their ride.
BIKEast's commitment goes beyond providing enjoyable outings. They advocate for better conditions for cyclists by engaging with Local Councils, the State Government, and the RMS. Their vision is to establish a top-notch network of safe, convenient, and visible cycling routes, ensuring enhanced accessibility and safety for everyone.
Our Participants from various Windgap Day Programs have grown fond of these captivating trips through Centennial Park, and we extend our heartfelt gratitude to BIKEast for their dedication to creating enriching experiences for individuals of all abilities.
You can read more about BIKEast on their website.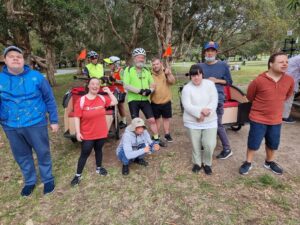 Inaugural Sports Carnival
We are thrilled to share the resounding success of Windgap's inaugural sports carnival, held in June, which brought joy, excitement, and camaraderie to all Participants. The event showcased a diverse range of engaging games, including giant connect 4, soccer, netball, giant jenga, bean bag toss, quoits, and more, ensuring there was something for everyone to enjoy. The atmosphere was filled with laughter and cheers as Participants competed enthusiastically, showcasing their talents and sportsmanship.
We extend our heartfelt gratitude to St Spyridon's year 9 volunteers, whose invaluable support and dedication played a pivotal role in making the Sports Carnival an unforgettable experience. Their assistance and enthusiasm in organising and managing the event were instrumental in ensuring its smooth operation and fostering an inclusive and enjoyable environment for all.
To relive the exciting moments and vibrant spirit of the Sports Carnival, we invite everyone to check out our Facebook album, where we have compiled a collection of awesome photos capturing the excitement, teamwork, and pure joy of the day. The event's success wouldn't have been possible without the participation and enthusiasm of all involved, and we are grateful to our Participants, families, volunteers, and sponsors for making this event a memorable celebration of sports and community. As we look forward to future events, we remain committed to providing engaging and inclusive experiences for all Participants, fostering a strong sense of belonging and happiness within the Windgap community.
NAIDOC and Reconciliation Week 2023
Celebrating both NAIDOC and Reconciliation Week, Windgap honoured the culture, history, and achievements of Aboriginal and Torres Strait Islander peoples in an inspiring experience for everyone.
A standout moment was the remarkable artwork by our talented Participants, capturing the essence of NAIDOC Week and reflecting a deep connection to the theme, For Our Elders. Their creativity and depth were impressive. At Windgap, our dedication to cultural diversity and inclusivity remains strong. NAIDOC Week provided an opportunity to learn, appreciate, and celebrate Indigenous heritage and contributions.
Windgap proudly joined in the National Reconciliation Week Choir. Over 500 diverse groups, including schools, disability organisations, and faith-based choirs, united to sing "From Little Things Big Things Grow," symbolising Indigenous equality and land rights. This powerful song commemorates the Gurindji people's struggle and the historic Wave Hill Walk-Off.
Artists from Florence Avenue pay tribute to the land's traditional owners through a curated art project. Adrian, a First Nations artist, collaborated with fellow artists to acknowledge the oldest living culture, reflecting the colours and textures of the land while respecting sacred Aboriginal art.
Windgap 70th Celebrations Continue
Windgap is thrilled to mark a remarkable milestone as we celebrate our 70th Anniversary! In honor of this occasion, we proudly unveiled a special commemorative collection of delightful hoodies designed exclusively for our Participants. These hoodies not only serve as a stylish embodiment of our longstanding journey but also symbolize the close-knit community that Windgap has nurtured over seven decades. We extend our heartfelt gratitude to everyone who has been a part of this incredible journey, and we look forward to continuing our mission of making a positive impact for years to come.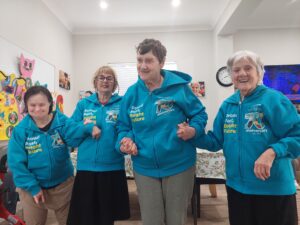 August 26th
Windgap Warriors – Lundy Cup
12pm, Jellicoe Park, Pagewood
September 17th
Sydney Marathon Bridge Walk
September 20th
Windgap Open Day
Botany Grove Business Park
December 15th
Participant Christmas Party
More information on upcoming events can be found on our Events page here.
For regular updates on everything happening at Windgap make sure to follow us on Social Media!