About Windgap Foundation
"Windgap Foundation is a not for profit organisation, providing services to people with intellectual disabilities, including supported employment, supported accommodation, training, community access and community participation. Celebrating more than its 60th year of operation, Windgap has established an outstanding reputation as a quality disability service provider in the Eastern Suburbs of Sydney and prides itself on its values of 'caring, integrity, independence, innovation and empowerment'. It is Windgap's mission to improve the quality of life of people with intellectual disabilities by supporting them in reaching their full potential and raising community awareness as to their needs and aspirations." Windgap Privacy Policy
Annual Report 2013- 2014
Windgap News
Generous Contribution from ATO Inter-Company Golf Club
Windgap received a $2000 donation from the proceeds of the ATO Inter-Company Golf Club Tournament. Each year, the Golf Club raises money for charities around Sydney and the club's secretary, Richard Bloomfield has a longstanding relationship with Windgap and was delighted to be able to make this generous contribution. The money will be put towards Windgap's new social enterprise Mr. Espresso by Windgap and used specifically for purchasing nationally recognised training and new uniforms.
Volunteers Receive Kingsford Smith Community Award
Windgap's volunteers Mary and Brian Ford received The Kingsford Smith Community Award from Matt Thistlethwaite MP during the award ceremony at Bowen Library. Mary and Brian have been volunteering on a weekly basis since the opening of the Transition to Retirement site for 3 years. They have been supporting 'The Diamonds Choir' as well as attending to special events such as "Remembrance Day" on the weekends. We would like to congratulate Mary and Brian Ford, and we appreciate their ongoing support.
New Initiative from Windgap and Mr Espresso
Mr Espresso by Windgap @ Matraville
Windgap and Mr Espresso is now proud partners for an exciting social enterprise that will provide employment opportunities for eager members from Windgap who have been trained at our Eastlakes DSK Hospitality and Learning Centre. Transition to Work's Tim Lockwood, Laura Cameron and Wai Sing Siu have already started serving delicious coffee and treats at The Mr Espresso by Windgap Café at 522 Bunnerong Road, Matraville. The official launch was on 3 December, on The International Day for People with Disabilities with the attendance of Councillor Brendan Roberts, Minister for Disability Services Hon. John Ajaka, Ron Hoeing, MP., Councillor Murray Matson and Michael Daley MP. With the support of the community and sponsors, Mr Espresso by Windgap will bring inclusion and meaningful employment opportunities to people with intellectual disabilities.
"Making Airwaves" : Community Radio Show to Celebrate International Day of People with a Disability

The "Making Airwaves" project, now in its 3rd year, is a partnership between Windgap Foundation and Eastside Radio 89.7 FM in Paddington. "Making Airwaves" is an opportunity for people with an intellectual disability to learn radio presentation and production skills, creating their own radio show. You can now link to the 'Voices of the Tiger' podcast by clicking on the right button.
New Transition to Retirement Site Opens its Doors
The venue is based out of a beautiful, recently refurbished period house known as 'Draper' in Daniel St, Botany. It is here that the potential retirees hope to develop two major group projects –the Community Garden and the Community Shed. The bigger Transition to Retirement venue opened its door with attendance of Matt Thistlethwaite MP, potential retirees, families, support staff, senior managers, community members and volunteers. On the day, the TTR Diamond's Choir performed magnificently with BBQ being served at the yard that is shared with a shed for two bunny rabbits: Samantha and Buttons. A cosy, yet inviting and warm environment has been created with the support of corporate sponsors, local members, volunteers and potential retirees. The group would like to thank everyone who was involved in this initiative and for their ongoing support. For more information, please click here.
Meet Victor Tombs
(NSW Don't DIS my ABILITY Ambassador)
After 40 years of working for the Windgap Foundation Victor is now enjoying retirement through participating in the Transition to Retirement program. Victor enjoys singing and is a member of The Diamond's choir. He is also an accomplished painter and has received several awards for his work which have been shown at art exhibitions across the Eastern Suburbs. Victor spends his weekends with his partner Michelle and supporting his beloved South Sydney Rabbitohs. For more, click here.
_________________________________________________________________________________________
Previous Events
Windgap's Senior Christmas Concert
Transition to Retirement site held its first 'Senior Christmas Concert' at Botany Town Hall. During the event, 'The Diamond's Choir' sang five of their favourite Christmas Carols. Local seniors of Botany and Matt Thistlethwaite MP attended the event.
Windgap Warriors' final soccer game was held with Multicultural Respite Service (MRS) at Jellicoe Park. Thanks to Pagewood Botany Football Club, Windgap had a chance to bring home a trophy which was presented by Matt Thistlethwaite, MP. Thanks to our volunteer coaches: Tarek and Roy, The Warriors started to be professionally trained on Mondays all year round. The aim is to improve their skills and confidence to play with other teams and to continue on great success stories like these! Special thanks goes to George Lundy and Pagewood Football Club, Paul Graham, volunteers Roy and Tarek, Multicultural Respite Service (MRS), Special Olympics, Matt Thistlethwaite MP, and all staff and volunteers for their on going help and support.
Diamonds Choir Perform at Remembrance Day
Long time Windgap supporter and Mascot RSL Sub Branch President Paul Graham welcomed all at the Remembrance Day Ceremony. On the day, Windgap's Diamonds Choir performed for the Veterans , Dignitaries and attendees.
Windgap Warriors Soccer Presentation
Windgap held a disco at Eastlakes Sports Centre. The night was enjoyed by many. Half of the centre was turned into a disco and favourite tunes were played by our in house DJ Brendon. During the night, Windgap Warriors Soccer Team received their trophies given by our former board member Paul Graham. We would like to thank all the volunteers and staff members who participated in training, soccer games and supported the Windgap Warriors Team and those helped and organised the disco night.
Windgap Gala Ball 2014
'A Night at the Races'
Getting involved in events such as our Gala Ball is a great way to support Windgap Foundation. All proceeds go towards our Transition to Retirement initiative to enable our supported employees to enjoy retirement with dignity!
Windgap's Annual Gala Ball was a great success this year with over 350 people attending. The night included many highlights: a Kath & Kim tribute by "Leave it to Diva" which included many hilarious moments, Special guest speakers Gerry Harvey and Katie Page had the crowd enthralled , Stump the Guru with Max Hitchins was a hit ,plus a phantom race call of the Windgap cup from Matt Hill which saw the winning table donate their $2000 winnings back to Windgap, the new Royal Randwick racecourse Venue & its food on the night were outstanding, then we finished the night with Live music from "The Enormous Horns" who kept us on our feet till the very end. For more information and photos from the night click here.
Windgap Yearbook
Windgap's Yearbook celebrates 60 years of Windgap and 30 years of Residential Services. Click below to view the yearbook. To purchase, call us on 02 8337 3646.
________________________________________________________
Video Gallery
Introduction to Windgap Services
View the short video of Windgap Services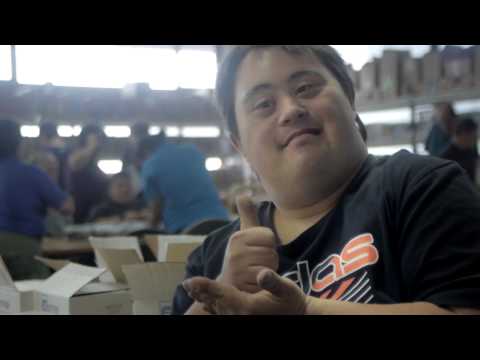 Ken's Windgap Journey
View the short video of Ken Clapp's Windgap journey.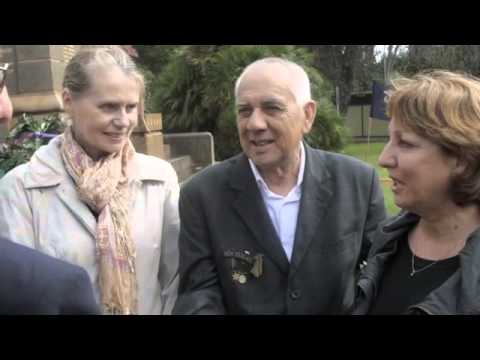 Volunteer Video
For any expression of interest to volunteer with Windgap, please email volunteer@windgap.org.au or call us on 02 8337 3646